Hey everyone, finally, something other than an outfit post on my blog !

My friend
Nina
sent me these wristcuffs quite a while ago, but I've been too caught up in other things to review them until now, but better late than never, right ?
Here's one of the wristcuffs on it's own, pretty old school I think, also very cute !
They don't have elastic in them, but the ribbon keeps them on perfectly.
I'm not an expert on lace, but I think it's really good quality ! Very soft and thick. If you didn't notice, there are two layers of lace ~
They are especially good for dressing up a plainer blouse and making it more loli-able !
Here's me wearing them with a full lolita outfit;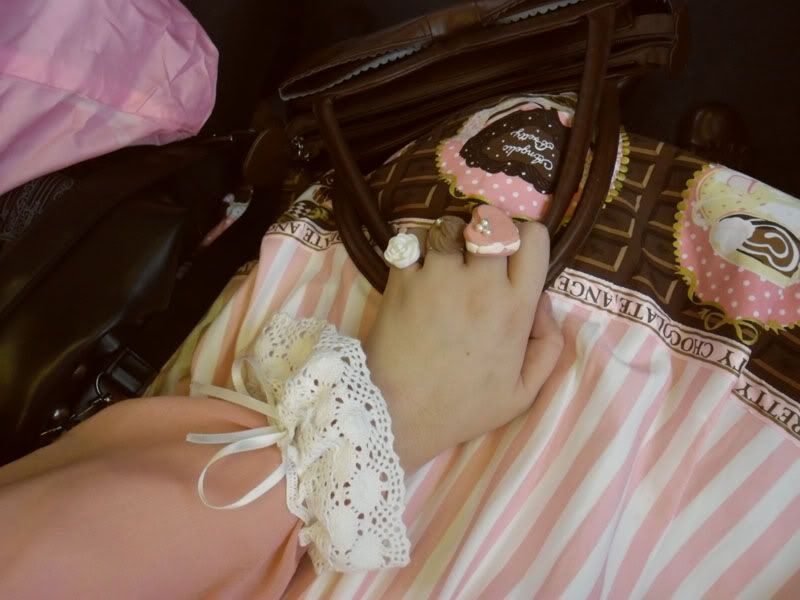 I also think they look really cute over some white, lacey gloves !
So yeah ! If you'd like some, give Nina a message, she's super sweet <3
The next set of wristcuffs are from
Vitae Clothing
, I won a competition and she sent me these as a prize !
One wristcuff on it's own ~
The lace is very different to the other pair, but also very good quality, as far as I can tell. Not scratchy at all, always a good thing !
These ones have elastic in them, so they are very easy to put on.
They have three types of lace, one facing up and two facing down, one on top of the other.
They also come in other colourways, have a look on their facebook page !
The little cake thingies seem to be made out of plastic, very solid and doesn't seem like it's going to break any time soon !
I believe the ribbon is called grosgrain ribbon, but I could be wrong. I personally like it, and I really like the way it's folded and sewn on.
Here's a photo of it worn with a sleeve, I love the over the top look !
I have yet to wear them with an outfit, I'm saving them for my yellow Cherry Berry Bunny replica dress when I get it * u*
I hope this review was useful to anyone looking for some cute wristcuffs ~